How much do I need to put down to finance a boat or RV?
At Boatloanhq.com we specialize in helping boat owners get loans to purchase their family's dreams. We frequently get asked the same question from customers "how much money do I need to put down on a boat loan?  
Marine lenders will take the same sorts of factors into account when determining whether to loan on a boat as they do with similar types of loans. One of those factors includes how much you need to put down.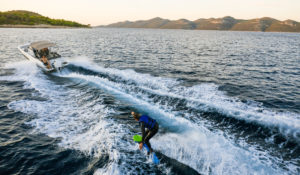 Credit rating

Debt to income ratio

Job and homeownership stability

Net worth

Price of the boat
What we've discovered over years of helping people fund their outdoor family lifestyle is that unlike a home, the amount you need put down largely depends not only on your creditworthiness but on the cost of the boat itself. For example, If you purchase a boat for under $150,000, you will probably just need a 10% down payment. But if you're looking at a larger boat that costs up to $250,000, you will need to put down 15%. A yacht or a houseboat that costs up to $500,000? Expect to put down 20%.
If you have a trade-in for a new unit or new to you, nearly all banks will accept the trade equity (how much your used boat is worth) as your down payment. This also helps you borrow less and build equity faster in your new boat.  
Of course, much of it depends on your credit scores and finances in addition to the cost of the boat. That is where we may be able to assist you. We have worked with several buyers over the years to get their down payment below 10%. It's important that you pick the right company or bank to work with when financing your boat. You need an advocate who can work on your behalf with the banks. That's why you should consider us as your boat lending source. We can help you determine how much boat you can afford and assist you work out a down payment that works for you.